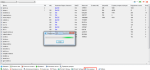 https://2captcha.com/ru/software/cs-sape-master
CS Sape Master is a software package designed to work with the SAPE link exchange and allows you to simplify some day-to-day operations by providing both webmasters and optimizers with additional functionality.
Donor performance check
The ability to check donor pages by 12 indicators (uniqueness of content, site traffic, indexing in Yandex, gluing, nesting level, etc.).
Analysis of the prices of posted links
The ability to save a significant part of the budget due to the elimination and removal of previously purchased links that have an unreasonably high price (compared to average prices).
Analysis of key phrases
Determination of key phrases promoted by the optimizer, assessment of their frequency and share of the budget through probabilistic analysis of the texts of already placed links.
Cost statistics
Plotting expenses for a specified period for one or more optimizer projects. Ability to build a general graph, save to file or print.
Ability to work through proxy servers (HTTP)
The program allows you to work through an unlimited number of proxy servers, including when making requests to Yandex.XML.
Quick check of indexing of pages / sites in Yandex
Indexation check in Yandex is possible both through Yandex.XML (including through selected proxy servers) and through the SEOBudget web service. To check indexing via Yandex.XML, it is required.
CS Sape Master has an integrated automatic bypass captcha system
2captcha.com