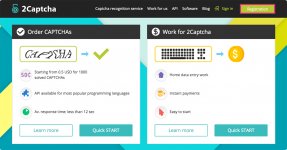 |
2captcha.com
2Captcha is a human-powered image and CAPTCHA recognition service that provides fast and accurate captcha solving. The service offers a variety of APIs that can be easily integrated with various software and applications, including PHP, Python, C++, JAVA, C#, Ruby, and Go. The pricing is reasonable, starting from $1.00 for 1000 captchas, and the server load does not affect the price.
One of the most significant advantages of 2Captcha is its high accuracy. The service uses real people to solve captchas, which ensures that the solutions are accurate and reliable. The customer support is also responsive and helpful, making it easy to get help when you need it.
2Captcha supports various types of captchas, including reCAPTCHA v2, v2 callback, v2 invisible, v3, and Enterprise, as well as hCaptcha. The process of solving a normal captcha is straightforward: the captcha image is taken from the page and sent to the 2Captcha service, where an employee solves it. The solved captcha is then sent back to the user, who can proceed with the task at hand.
In addition to providing captcha solving services, 2Captcha also offers a captcha typing job that allows users to earn money by solving captchas. The job is simple and requires no investment, making it an excellent option for those looking to earn extra income online.
Overall, 2Captcha is a reliable and trustworthy captcha solver that provides fast and accurate solutions to captcha challenges. The service is easy to use and integrates well with various software and applications, making it an excellent choice for anyone in need of captcha solving services.