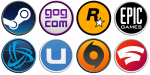 1. League17
https://2captcha.com/ru/software/klient-league17
This client gives you the opportunity to look at the game of the League17.ru website in a new way, namely, without nerdiness.
The client is a browser based on the modern chromium engine.
The advantage of playing through this client as opposed to a regular browser:
- voice acting of attacks of wild Pokemon;
- an info panel for viewing Pokemon attacking locations, available quests in the region, available for catching runaways, and much more;
- using hotkeys to call frequently opening windows (inventory, mail, Pokemon menu);
- built-in search engine for Pokemon according to various criteria (attacks, types, stats, strength categories, experience groups);
- stat and damage calculator;
- a visual table of the efficiency of types;
- rank calculation will allow you to quickly calculate the number of victories / defeats to the next rank;
- autoboy with a large number of installations and statistics of attacking Pokémon and counting the dropped out money, items;
- auto-call to battle as all trainers in a row at the location and calls trainers suitable for the specified rank, karma, number of pokeballs, the presence of a clan;
- auto-use of inventory for automatic periodic after every hour to use the item that is needed to catch certain Pokemon;
- anti-captcha for automatic captcha input;
- autotracking which allows you to catch both rare Pokemon and specified Pokemon according to the desired criterion;
- an auto navigator for fast movement across locations;
- functions of automatic quick attack on coaches on the list;
- functions of automatic quick escape from the location when coaches are found on the list;
- auto-transfer of a hatched Pokemon, to free up space and catch new ones;
- built-in itemdeks to get information about all things in the game, their cost and method of obtaining;
- logging of attacking Pokémon to keep a log of all attacking Pokémon in time and location;
- built into the client online radio of different genres;
- a panel for entering links to view any other pages in a new window without interfering with the work of the bot;
- scheduler for auto-download Pokémon for consistent pumping to the specified level of Pokémon specified in the list;
- an auto navigator planner for moving around locations at a given time;
- One-click visit to the center, as well as auto-visit to the PC if necessary;
- auto advertising to automatically write messages about the sale / purchase in the chat at a specified interval;
- chat search engine to track the messages written to the chat by keywords, adding these messages to the text field;
- pokebase to create a database about your Pokémon, and then change information about them, display and search for different criteria;
- a guide through the maze automates the process of finding a way out of the maze;
- there are various functions to help in battles against other players, such as hints on the types of effective attacks, counting the number of attacks used by the Pokémon, auto-memorization of the opponent's Pokémon;
- fast and convenient tournament organizer, one-click scans players at locations and randomly composes groups with the required number;
- various notifications about the attack of a rare Pokemon, the attack of the trainer, about the incoming message to the chat, both by sound and by SMS to the phone;
- built-in answering machine for issuing various messages to the chat;
- getting a link to a screenshot in a couple of clicks;
- blacklist function for highlighting trainers at locations that are added to this list, so as not to forget, for example, those who did not please you for some reason;
- tables of results of battles and much more!
2. brobot17
https://2captcha.com/ru/software/brobot17
An almost free bot for an online game based on the Pokemon world. You only pay for captcha recognition. The bot allows you to automate the main routine actions in the game, such as:
- Item drop
- Quality Pokémon
- Careful swing (or swing with a bracket)
- Catching Pokemon
- Placement of advertisements in the trade chat
With this bot, knocking out the staple is as easy as shelling pears!
3. Top Site Voter
https://2captcha.com/software/top-site-voter
This is a Top Site Auto Voter Bot v5.901 Running and active since 2012 - 16 vote sites and more coming
Features
Multi Threaded
Auto vote on GameTopSites.com
Auto vote on GameSites200.com
Auto vote on XtremeTop100.com
Auto vote on Minecraftservers.org
Auto vote on MMOServer.pro
Auto vote on TekkitServerList.com
Auto vote on MMOServer.pro
Auto vote on RPG-Paradize.com
Auto vote on Top100Arena.com
Auto vote on Runelocus.com
Auto vote on Minecraft-server-list.org
Auto vote on Minecraft-server-list.com
Auto vote on minecraft-index.com
Auto vote on RSPS-list.com
Auto vote on TopG.org
Auto vote on TopMorpg.com
Custom Post Back option
Custom logs to see, and be able to export them
All delays can be randomized
Proxy support (http, socks, private proxys, proxyrental, hma hidemyass.com supported)
Set your Referring Domain
8 Captcha Cracking Services Supported (bypass captcha, decaptcher, deathbycaptcha,captcha sniper, bypassconfident, 2captcha.com for new google captcha, bypassct.com, humanresolvers.com)
New google recaptcha solving via 2captcha or deathbycaptcha
Clears cookies and cache, flash cookies, and tracks on each vote
UNDETECTABLE
4. DVT Voter
https://2captcha.com/software/dvt-voter
DVT Gaming is a premier Top Sites Voting service. With 2 years in the Service, DVT Gaming has become one of the Top Voters in the market. We have created a system that is both incredibly fast and very effecient. We offer an outstanding low prices, a 24/7 Supprot Team, Simply we help you get your game on TOP.
Supported Top-Sites
1-XtremeTop100.com
2-Openwow.com
3-Gtop100.com
4-Topg.org
5-Wowstatus.net
6-Top100arena.com
7-Topservers200.com
8-Rsps-list.com
9-Rsps100.com
10-Metin2pserver.info
11-Top-pserver.com
Connection Types
HTTP/HTTPS Proxies
Socks5 Proxies (Recommended)
VPN (Vypr VPN & HMA VPN Supported)
USBModem (Support all USB Modem Types)
5. L2Top Voter
https://2captcha.com/ru/software/l2top-voter
the ability to vote when you need and how much you need
ability to evaluate l2top server
the ability to vote for the server in l2top
the ability to run from 1 to 10 threads
the ability to run an unlimited number of copies of the program (on one computer)
voices go through your proxy list (no dynamic IP required)
it is also possible to manually enter captcha