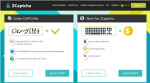 It depends on our customers
. Rest assured we do our best to be able to handle the load spikes without service interruption: we scale the capacity, invite more workers to stay online.
But all those actions could be useless in case if our customers
ignore our limitations
and don't
handle API errors properly
.
So, please pay extra attention to these points before the sale, not at the moment your software will face any issues.