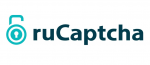 RuCaptcha.com is a service for manual recognition of graphic images, here there are those who need to solve images in real time (scans of documents, captchas, etc.) and those who are ready to do it for money.
All RuCaptcha employees know Russian, and therefore the recognition of documents in Russian reaches 95%.
It is especially worth noting the presence of the functionality of "100%" guessing, when one image is recognized by several employees, after which the answers are compared and, in case of coincidence, the answer is recognized as correct.
For workers:
1. There are always tasks. At least 1,000,000 captchas come to the system every day for recognition
2. Fast withdrawal of funds. All payments are automated
3. The minimum withdrawal amount is only 15 rubles
4. The system does not charge users any commission fees
5. The referral program allows you to earn 10% from the partners you attracted
For webmasters:
1. Low cost of recognition: from 18 rubles for 1000 captchas
2. High speed of captcha solving
3. Technical support responds within 30 minutes (on weekdays)
4. There are no commission fees
5. The referral program allows you to earn 10% from your attracted partners