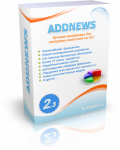 https://2captcha.com/ru/software/addnews
ADDNEWS is a unique multi-threaded software product that serves to promote your site and add news to sites under the control of the famous DLE Engine and other additional engines: UCOZ, PHPBB, vBulletin.
The program has long earned trust and authority both in the face of posters and on the entire Internet, so we can safely say that this is the best program for adding news. You can also declare that this is a professional program for website promotion. ADDNEWS stands out for its functionality, convenience, quality and speed. ADDNEWS is developed by professional specialists who have been developing innovations in the field of posting and SEO technologies for more than 5 years.
ADDNEWS is so convenient and responsive that any user can easily understand and master the program in a short period of time. The program is constantly being improved and gives its users more and more new developments, which allows them to increase their efficiency and earnings in the field of posting and white-label SEO.
AddNews has an integrated automatic bypass captcha system
2captcha.com