The AMP team
announced
that the
AMP Packager
tool has become available on the
Google Cloud Marketplace
. To find it, you need to search by name or click on "Kubernetes Apps" in the left panel.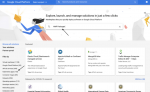 AMP Packager
is a tool for enhancing AMP URLs through AMP display using Signed Exchanges.
This tool was launched in 2018 and is already being used by many sites to implement Signed Exchanges.
To enable publishers to create the best AMP content, developers are constantly making changes to make it easier to use AMP Packager. One such step was the launch of the AMP Packager Google Cloud Click-to-Deploy Installer, which is now available on the Google Cloud Marketplace.
Read more about using this tool on the
AMP blog
.
As a reminder, according to Google,
AMP
is the easiest way to provide a great user experience.