On December 22, the US Patent and Trademark Office granted Apple a patent confirming that the company is developing its own search technology.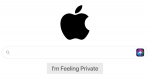 Patent 10,872,088 describes a method for ranking search results based on domain weight. The technology should make the search results as useful as possible for users by displaying them in a specific order, in accordance with a specific rating or rating.
As intended by the developers, the weight of an item used to sort the search results could be based on an assessment of the impact of the domain that provided the item.
This score is derived by assigning a default minimum impact mark to each domain in the group and then updating it based on the number of links per domain. In this case, a domain that refers to or points to another, transfers it part of its impact assessment. Ultimately updating these results yields a dataset where all domains have a positive (non-zero) score. Moreover, some domains have significantly higher impact scores than others.
The patent also covers the entire process of creating impact assessments. In particular, the system can be initialized by assigning a predetermined initial impact score to each domain in the subset (and these domains can be manually selected as important "trusted" domains), while all other domains have an initial impact score of zero. Also, this search method involves creating a black list of domains.
The patent indicates that the technologies described in it can be implemented in various systems and data processing devices, including general-purpose computer systems, special-purpose computer systems, or a hybrid of general-purpose and special-purpose computer systems.
Note, Apple was suspected of creating its own search engine in August. This was indicated by signs such as changes to Spotlight search in iOS and iPadOS beta, as well as a significant update to the Applebot help article and an increase in its activity on sites.
In October, the company stepped up work on search technology amid increasing regulatory attention to the payments Google makes every year to remain the default search engine on iOS devices. Own search will allow Apple to provide users with an alternative to Google in the event that the authorities ban their partnerships.