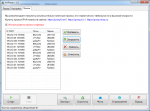 https://2captcha.com/ru/software/aviparser
Parser capabilities:
Multithreading - it is possible to parse sections in several threads, which increases the speed of data collection.
Stability - the parser works stably, if errors occur on the Avito side, it does not hang, but continues to work.
Supports work through a proxy server with the ability to authenticate, i.e. specifying username and password
The parser can load all found images for each ad.
Saves the collected data to a CSV file
Where does it parse from:
The parser is able to collect ads from any section of Avito, including all additional filters for the search for ads and any keywords.
AviParser has an integrated automatic bypass captcha system
2captcha.com