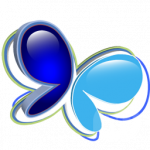 https://2captcha.com/ru/software/butterfly
Butterfly 4
- Powerful link collector from any sites, directories and search engines.
The parser has a simple and intuitive interface that any beginner who starts the program for the first time will understand.
All links found by the program can be screened out using a filter configured to suit your personal needs. The program has many ready-made, configured and debugged filtering and search profiles. It is possible to save entire found links, only domains, or links based on a mask.
In version 4:
The program interface has been changed. Provided the ability to use the program on netbooks with a small screen resolution.
Implemented support for checking local links
Implemented output to the log of errors when checking sites
Added the ability to output links with a validation error to the results file
Implemented a mechanism for authorization and obtaining additional functions of the program
Implemented IP protection through a random proxy when parsing
Implemented proxy autochecker
The ability to hide ads with at least one additional function
Ability not to test found links for performance (do not filter)
User-Agent changed
Ability to continue parsing from the place where parsing was interrupted the next time the program is started
Possibility to increase the number of parallel processes up to 300
Fixed bug when working with SSL
Fixed and tested search and filter profiles
Minor bugs fixed
Butterfly 4 comes standard with 19 search profiles:
Search in Ask
Bing Search
Search in the DMOZ directory
Search in Gigablast
Google search
Search in Google (sites in Russian)
Google Search (sites in English)
Google search (sites from USA)
Search in Mail.ru
Search in Meta.ua
Search in Lycos
Search in Nigma.ru
Search in the news of the NoNaMe website
Search in Rambler
Search in Rambler TOP 100
Search Refer.ru
Search in Yandex
Search in Yandex Catalog
Yahoo Search
16 filtration profiles:
Selection of sites on Bitrix
Selection of catalogs CNCat
Selection of sites on DLE
Selection of sites for DLE (selection implemented in Butterfly 2)
Selection of sites on DLE (without Adult)
Drupal site selection
Selection of sites on Joomla
Selection of sites on MaxSite
Selecting sites on phpBB
Selecting sites on phpBB 3
Selection of sites on UCOZ
Selecting WordPress sites
Selection of sites on vBulletin
Selection of sites on IPB
Selection of free and open torrent trackers
No selection (saving all found sites)
Butterfly has an integrated automatic bypass captcha system
2captcha.com