Hi guys, I am just a normal user and I don't know anything about coding.
I have come across a website that I use a lot (I used to key in the captcha manually everytime) and now I am really frustrated with the manual efforts that I have to put in.
I think this is a simple captcha but I don't know how to create script/browser extension to auto solve it.

For example, the captcha above will be shown in the webpage in this form. But if you copy the captcha and paste it into notepad, you can know that the words are formed with many asterisk: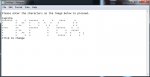 Any idea/recommendation of way to auto solve this type of captcha? Or any website/book that I can read to gain knowledge and develop my own script for this?
Thousands of thanks in advanced.