https://2captcha.com/software/cbt-email-extractor
The World's Most Powerful Web Scraper and Email Extractor Software
CBT Web Scraper and Email Extractor Software will enable you to generate niche-targeted sales leads with laser precision. Simply enter your keywords, configure your settings and let the web scraper run and generate sales leads on auto pilot.
CBT Email Extractor is a desktop software that will enable you to scrape and extract business contact details into an Excel spreadsheet from virtually all internet sources such as the most popular search engines (Google, Bing, Yahoo, AOL), business directories (Yellow Pages and Yelp), Google Maps, Social Media Sites (Instagram, Facebook, LinkedIn, Twitter). All you have to do is enter your keywords, configure your settings and start to scrape new business leads. The software will export your results into a spreadsheet file and even split up the business leads according to country.
Have you ever hired data entry assistants to manually copy and paste business leads from the internet? CBT Email Extractor has been compared to having "hundreds of data entry assistants copy and paste business leads from the internet but without the exorbitant price tag". The software is already helping many struggling businesses to cut costs and win new business during these unprecedented and challenging times brought about by the Covid-19 pandemic. This software is suitable for business development, finding new wholesale clients and guest post outreach campaigns for link building to increase your website's rankings.
How CBT Software Will Benefit your Business
The objective of CBT scraping software is very simple: to allow you to scrape niche-targeted business leads that you can use for B2B marketing to boost your wholesale sales. For example, if you manufacture hemp and cbd oil, cbd gummies, cbd topicals and pain creams, hemp cosmetics and cbd pet treats, you could scrape separate databases for pet shops, cbd shops, health and sports nutrition businesses, vape shops, food and beverage companies and beauty and cosmetics retailers and wholesalers. The idea is to then use the scraped leads to target the businesses with your wholesale offering. It is a no brainer, if you are a wholesaler or a manufacturer, your target clients are predominantly retailers and wholesalers. Our software will help you to uncover all of your prospects with relative ease and low cost. You can then start to engage your B2B marketing tactics and send out mass emails, newsletters, send out samples via direct mail, call up the companies via your telesales team and connect with your prospects on social media. CBT web scraper and email extractor was created with the aim of taking out the heavy lifting from the lead generation stage and slashing your costs thus leaving you plenty of resources and time to connect with your prospects.
CBT Email Harvester Software - Key Features
Unlike other web scraping tools, the CBT Web Scraper and Email Extractor Software can scrape multiple search engines, business directories, social media sites and even custom website list concurrently and combine all results into a single Excel CSV spreadsheet. Likewise, the search engine scraper has a set of proprietary filters that utilise artificial intelligence to generate niche targeted data.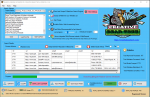 Scrape and Extract Data from Popular Search Engines, Business Directories, Maps and Social Media Sites
What makes us truly different from other companies is the fact that our web scraper has a built in ability to scrape multiple website platforms and combine the extracted data into a single Excel CSV spreadsheet. This will help to ensure that you leave no stone unturned and scrape virtually every single corner of the internet that is likely to hold quality data. Likewise, you will not need to run separate scrapers for each website platform such as Google Maps Scraper, Yellow Pages Scraper, Facebook Business Page Scraper and so on.
The web scraping tool can scrape and extract data from the most popular search engines, maps, business directories, social media sites and even your own website list. Presently, the web scraper can scrape and extract data from the following platforms:
Google
Bing
Yahoo
AOL
SO
DuckDuckGo
Yandex
Ecosia
Ask
Trust Pilot
Google Maps
Yellow Pages
Yelp
LinkedIn
Facebook
Twitter
Custom Website List
CBT Email Extractor has an integrated automatic bypass captcha system
2captcha.com