Facebook has
published
a forecast of the main trends and topics for 2021 -
The 2021 Topics and Trends Report
.
The report was prepared by the Facebook IQ team. Her team analyzed four regions: Asia Pacific, Europe, Latin America and North America, and eight countries within them: Australia, Brazil, Canada, Germany, India, Mexico, the United Kingdom and the United States.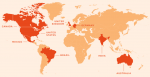 The document contains 40 pages.
The study was designed to find out how COVID-19 affects individuals and communities. The pandemic has created common problems in different countries and in many cases it has accelerated the cultural processes that were already taking place.
Over the past three years, Facebook's Top Topics and Trends Report IQ has researched trending topics in Facebook discussions, assessing the habits and interests they represent.
The new report has added topics from Instagram to expand the data available.
Facebook hopes that this information will help marketers better understand their target audience and better interact with it in the future.
Nowadays, people give priority to the most important. They take care of themselves and others more consciously and look for ways to cope with the challenges they face with fewer resources. Digital channels help people connect by accelerating the diffusion of emerging technologies into new markets. When the pandemic finally ends, many of these trends will be fundamental shifts in how people are discovering new and more authentic ways of being, according to Facebook.
The forecast for 2021 covers 5 categories: education, activity, lifestyle, technology and leisure.
Below are some conclusions of the forecast.
The 2021 report showed that lifestyle themes and trends in the UK, Canada and the United States have moved towards home, reflecting the reality of a pandemic.
Popular themes include gardening, homework-fueled trends, and DIY (do it yourself).
Technology and online shopping
Facebook highlighted the growing role of technology around the world to facilitate online shopping in places where online shopping has not yet become widespread.
In India and Mexico, there were difficulties with online shopping due to internet connection issues and preference for cash purchases. Companies in Australia have had problems with shipping difficulties with such a large population.
In India, e-commerce, entertainment, work and education are increasingly moving online.
In Australia, there is a trend towards what Facebook calls a "hybrid" version of online shopping. This term reflects the combination of online shopping with home delivery or pick-up from the store.
In Mexico, the so-called "neo-banking" is gaining momentum. It is a form of non-cash payments through banks that do not have a physical address. This allows an increasing number of Mexican consumers to enjoy the benefits of cashless payments.
Overall, online shopping continues to become the standard way of purchasing goods around the world. It also shows that consumers are focused on purchases that improve their home life and are safer.
These trends are projected to continue until 2021.
All data of the Facebook report can be found in the PDF document at the
link
.