Google Ads has
improved
the functionality of the Lead Form extension, which was launched in October. The update was intended to simplify the management of lead forms and make them more effective for the business.
Common forms
To make it easier for advertisers to manage their lead form extensions and help them save time, Google Ads allowed the same forms to be used across Search, YouTube, and Discovery campaigns.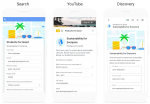 Lead form extensions for YouTube ads and Discovery campaigns will now also be available in the Extensions tab in Google Ads.
In addition, advertisers will be able to select the appropriate questions from more than 50 available options to customize the form for their business needs.
Get leads automatically
When someone requests information about a business, it is important to respond to that request in a timely manner in order to close the deal.
By setting up a
webhook integration
, advertisers can automatically submit lead data from lead form extensions to their CRM. This can also be done through
Zapier
.
For more information on the Lead Form extension, see
Google Ads Help
.