Employee
Danny Sullivan
confirmed on Twitter that the so-called "Passage Indexing" has not yet started.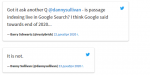 Passage Indexing is a snippet indexing search engine update that will help Google better understand pages with good but poorly structured content.
Google announced that it learned how to index page snippets at its Search On 2020 event in October. Later it turned out that in fact the search engine does not index fragments, but indexes entire pages, and the term "Passage Indexing" means changes in ranking. Google will start showing relevant page snippets in search results.
How it will look in the SERP is still unknown. Google has shown a preliminary version, but tests are ongoing.
According to Google, after the global launch, Passage Indexing will affect about 7% of searches in all languages.