A few days ago, Google employee John Mueller responded on Twitter to several questions related to the public WHOIS directory, which contains contact and technical information about domain name owners.
One of the webmasters asked if having public domain information in the WHOIS registry helps to improve the credibility and credibility of a site.
According to Müller, it "doesn't change anything."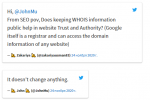 Another expert asked, "So Google doesn't use information from sources like WHOIS to identify link networks and things like that?"
Müller replied that "by making a domain registration private, the domain does not become part of the link network."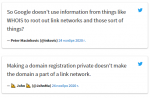 As a reminder, in May 2018, ICANN changed its registration data policy for top-level domains. According to the new provisions, information about the person to whom the domain is registered, its address, phone numbers, etc. should be removed from the public WHOIS service. These changes were adopted in connection with the entry into force of the GDPR.