Last week, Google relaunched its search engine indexing tool in Search Console. It has been disabled for 69 days.
This was posted on Twitter: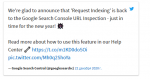 This feature is now available again in the URL validation tool:

Search team members also recalled that:
If you have a large number of URLs, you should submit a sitemap to Google, rather than requesting indexing through Search Console;
Submitting index requests does not guarantee that the URL will be included in Google's index. Its systems prioritize fast indexing of high quality and useful content.
As a reminder, Google announced a temporary shutdown of the tool for sending indexing requests in October. This was due to changes to the Search Console infrastructure.