The specialists noticed that Google is testing a new design for additional site links in mobile search results.
In this version, in the main snippet, the description is abbreviated, but in additional links, on the contrary, it appeared - literally one line at a time. It looks like this: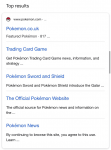 In the current version, additional links are designed as drop-down items, and the main emphasis is on the page description: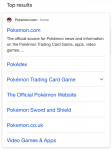 Testing is conducted on a limited scale.
As a reminder, Google tested interactive search results in December: with expandable snippets and image display on hover.