Google employee Danny Sullivan confirmed that Google has already launched subcategories in the rankings. This change, announced at the Search On event in October, was rolled out to the search experience in mid-November.
Google uses neural networks to determine which categories a topic of interest is divided into. This allows you to return more varied content for broad search terms.
For example, if a user searches for [home workout equipment], Google can now highlight relevant subcategories such as budget equipment, premium options, and small space ideas, and show a broader range of content on the search results page.
However, this change does not affect the appearance of search results.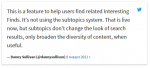 As for the Passage Indexing, which was also announced in October, it has not yet been launched.