Google has updated its Lighthouse website audit and optimization tool. Now he started warning site owners if their project contains old JS libraries that have more modern alternatives.
Along with recommendations for improving performance and security, the Lighthouse report now contains a list of media that can be resized with compression and new or different caching policies, as well as related files that contain blocks of unused CSS and / or JavaScript.
In September, these warnings appeared in Lighthouse in Chrome Dev Tools: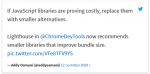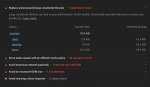 As a reminder, Google started using Lighthouse data in its PageSpeed Insights tool in 2018.