Google Ads will replace TrueView for Action campaigns with the new Video Action format, introduced in June 2020. This became known from the agency mailing list Google Russia.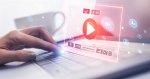 ​
The new type of Video Action video campaigns helps you get more conversions on YouTube and beyond. These ads can appear in the feed on the video hosting homepage, on video pages, and on Google partner sites.
The new format uses machine learning, and ads are shown to those users who are more likely to convert.
According to Google, Video Action campaigns are a tool that retains and enhances the benefits of TrueView for Action.
This format is recommended for use in the following cases:
If advertising is used to call customers to action;
To show ads on more sites;
To optimize your CPC and improve overall campaign performance.
For more information on Video Action campaigns, look
Help
.