Since the beginning of 2020, Google has registered a record 2.02 million phishing sites, up 19.91% from 2019 as a whole. This is evidenced by data analyzed by Atlas VPN.
According to Google's transparency report, the company identified an average of 46,000 new phishing sites every week in 2020.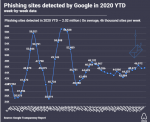 This problem was especially acute in February, March, April and May, when in some weeks Google discovered more than 50,000 new phishing sites. This coincided with the spread of COVID-19, which has become a global problem. Cybercriminals have played on fears associated with the new virus to entice users to visit fraudulent sites or click on malicious links in emails.
Meanwhile, analysts point out that the rise in phishing sites is a longer trend that COVID-19 has only accelerated.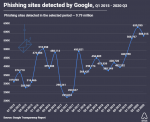 Since 2015, the number of phishing sites identified by Google has grown by an average of 12.89% annually. This was due to the growing use of the internet in general, which began long before the COVID-19 pandemic.
According to analysts, the increased use of the Internet and digitalization will continue to lead to an increase in phishing attacks.