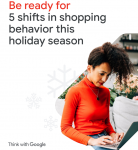 Google has published a new 27-page guide that contains fresh stats on holiday shoppers.
The document aims to help marketers get the most out of the upcoming holiday season.
Search behavior of holiday shoppers
In the manual, Google cites data on a number of search queries that have been growing in popularity lately:
Searches for [best affordable] worldwide increased 60% YoY;
The number of searches for [fashion online shopping] (fashion online shopping) increased by 600% year-on-year;
Searches for [online clothing stores] grew by 100% worldwide;
Searches for [available near me] (available near me) increased by 100% worldwide;
Searches for [curbside pickup] (parking delivery) increased by 3000% worldwide;
Searches for [support local businesses] increased by 20,000%.
Shifts in holiday shopping behavior
According to Google, holiday shoppers are changing their behavior and adapting to the way they live in 2020.
69% of U.S. shoppers plan to shop online for more holiday purchases than in previous years. This year, more users will also make online purchases for the first time;
More than 50% of American shoppers surveyed have tried a new shopping service this year;
More than 2 in 10 US shoppers have tried out a new shopping app this year;
70% of US shoppers said they are open to new retailers.
Changes in Buyer's Intention
The following set of statistics focuses on notable changes in buying intent.
62% of US shoppers will start their holiday shopping early so they can buy while stock is available
46% of online shoppers in the US expect retailers to offer holiday discounts
77% of holiday shoppers in the US will look for gift ideas online instead of in stores.
46% of US shoppers try to shop from companies that have similar values;
66% of shoppers planning to shop this holiday season will buy more from local small businesses.
conclusions
The COVID-19 pandemic and quarantine measures introduced around the world continue to influence consumer behavior as they shop more online. At the same time, many people are ready to support small businesses and intend to buy more from local companies.
The expectation of holiday discounts, traditional for this period, remains unchanged.
All data for the 2020 holiday season can be found in the Google PDF Manual
here
.