Google may continue to rank the page even if matching content has been removed. Search employee John Mueller told about this.
For example, this can happen if the company name is changed. Then the main page can still be displayed by the old name.
According to Mueller, Google can continue to rank a page for a specific keyword or phrase, even if it's removed from the page.
"If we know that this text was on the page, then we can continue to show this page in search results, even if this text has been removed."
So, if a company changes its name, then users can still search for its site by the old name for some time.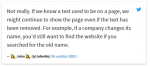 If you want the page not to appear in search results, then removing the keywords will not be enough. We'll have to completely remove it from the site.