Three weeks ago, Google "temporarily" disabled the page indexing tool in Search Console. Search Engineer John Mueller invited webmasters to take a survey today about why they want this opportunity back.
Mueller noted that he has no news on this topic, but he would like to know why webmasters lack this tool.
He invites professionals to fill out a form called "I'm missing the URL submission tool" at the
link
.
It needs:
Specify the URL that the webmaster would like to send to Google;
Indicate the approximate number of similar URLs that could be sent from the site in the last week;
Why this page needs to be indexed urgently;
How critical is submitting a URL to Google for a site.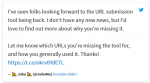 Müller has previously assured that the suspension of sending requests for indexing is not related to recent failures in the search engine. As for the resumption of the tool, then Google promised to do so in the "coming weeks", but did not give exact dates.
Meanwhile, many SEOs doubt that this will happen any time soon, and some believe that Google will not return this feature at all.