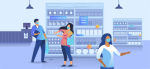 Accenture has released a report titled "How COVID-19 Is Changing Retail" as part of its annual Global Consumer Pulse Research. The study surveyed about 9 thousand consumers around the world in order to study their expectations from companies and brands after the pandemic.
The study found that shopping preferences have changed during the pandemic. The coronavirus has pushed buyers to think about how and what they are purchasing. Now people tend to give preference to local brands (56% of those surveyed now and 84% in the future), to buy goods in convenience stores (56% now and 79% in the future) and look more closely at prices (54% of respondents have become more economical).
Priorities have also changed - the main priority for consumers was health (78% of respondents). At the same time, fears of financial instability increased among many (the number of those concerned about this increased from 37% in March to 50% now).
In the next 6 months, 73% of buyers prefer to socialize at home or away. So communication with friends online is chosen by 53% of respondents, in parks and other open spaces 59% of respondents are ready to be. At the same time, meeting with friends in restaurants is comfortable only for 28% of respondents, and in bars and clubs only 13%. About 45% of surveyed consumers are not at all ready to start actively visiting public places.
Shoppers have appreciated the safety and convenience of online shopping and will continue to use this method of shopping even though stores are physically open. Research data shows that today 54% of shoppers use contactless payments (87% will do so in the near future), 54% order goods via apps (84% in the future), 47% use home delivery (82% in the future) 44% buy through social media (80% in the future).
The coronavirus has contributed to the emergence of new hobbies in people. So the interest of citizens in cooking and baking has grown by 4 times, and people's hobby for home decor, DIY, gardening has grown by 65%.
Based on the survey results, Accenture analysts expect e-commerce and omnichannel services to continue to grow. The e-commerce segment showed the fastest growth in 10 years: in the first 4 months of 2020, the volume of this market increased by 27% (for comparison, the growth for the entire 2019 was 16%). Analysts also expect the e-commerce market to grow by 169%, driven by shoppers who do not shop online or do so rarely.