TikTok Captcha is a unique type of captcha that was developed specifically for the APP. Functionally, it can be compared with other graphical views, but it has several unique feature.
Fast bypass allows auto solving service.
2Captcha
helps bypass captcha.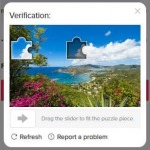 To bypass protection, you will need:
- get all cookies set by TikTok site
- send these cookies to
our API
- wait a bit and get a set of cookies from us
- use the received cookies for further interaction with TikTok
Please
send reports
to let us know if the solution worked or not.