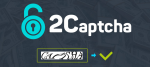 What needs to be done to make me work as a captcha recognizer?
Register on the service, log in and go to the "Start earning" tab. Here you will need to agree to the terms and conditions, after which you can start solving.
How to solve captchas:
Go to the "start earning" tab and click the "start" button. Wait until the picture is loaded, after which you will need to enter the text from the picture into the form below the picture.
What happens if I make a mistake when entering text? What if I make mistakes often?
It is allowed to make 5 mistakes every 100 captchas. If you make a mistake more often, then the possibility of further input will be blocked for you. If you make a deliberate mistake, enter something completely different from what is shown in the picture, then your account will be blocked entirely.
What do you mean "this is not a captcha"?
Sometimes random pictures come instead of captchas. In such cases, you need to click "this is not a captcha"
I cannot figure out what is shown on the captcha. My drawing did not load. This is not a captcha at all.
In this case, you need to click on the button "this is not a captcha"
For how long is the ability to enter in case of errors blocked?
Until the moment when the correctness of your input will be checked by the moderator. It takes up to 2 working days. If you did not make a lot of mistakes when entering captchas, you will be unlocked the ability to enter captchas.
I press start, the download starts and nothing happens.
Apparently, at the moment there are fewer captchas than workers. It happens sometimes, it's normal.
Captcha takes a very long time to load.
Simply, now there are more employees than captchas and you are standing in line to receive captchas.
What does "case sensitive" mean?
This means that the answer must be typed in CAPITAL and small letters, exactly as shown in the figure. If there is no warning "case sensitive", then it does not matter in which case you are typing the response. The main thing is that the keyboard layout is correct.
I choose "Russian", but I still get English captchas sometimes, why?
Unfortunately, the system cannot guess the language of the incoming CAPTCHA with 100% accuracy. Therefore, sometimes you will still come across captchas in English. They cannot be skipped and must be recognized, even if you are not sure of the correct answer. We have no blocking for incorrect recognition of complex captchas.