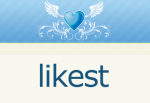 https://2captcha.com/ru/software/likestru-bot
Instructions:
1. Download the program from PR-BOT.RU
2. Run Likest_PR-BOT.RU.exe
3. Follow the installer (Always click "Next" and "Install")
4. At the end of the installer, click "Finish" - the program will open
5. In the program, launch the browser and select:
Wrap up speed
The language that is listed on vk.com/settings
6. Select the type of promotion: Likes, Groups, Groups + Likes
7. After clicking on the type of cheat, a window will appear with a brief instruction, click "OK"
8. Making the browser active: Just click on the browser window, and make the full screen
9. Successful promotion =)
Likest.ru Bot has an integrated automatic bypass captcha system
2captcha.com