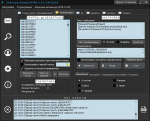 https://2captcha.com/ru/software/lsender-vk
LSender VK features:
mailing by LAN
discussion mailing
distribution to the walls of groups / publics
mailing by post comments
distribution by video
mailing by photo
pars of discussions
pars group / public
pars video
pars photo
pars users
Benefits of the program:
multi-account (with each action a new account is selected from the list)
support for both Antigate and manual captcha input method
proxy support (HTTP, SOCKS 4, SOCKS 5)
support for both groups and publics
saving all program settings
multithreading (simultaneous operation of all program modules, independently of each other)
statistics and log (maintaining detailed statistics for each program module)
a detailed FAQ that describes each function
pleasant and convenient user interface of the program
shutting down the PC after the end of the broadcasts
emulation of user actions, which allows you to reduce the number of bans to a minimum
Spammer's capabilities:
6 types of mailing
delay between posts (the interval is indicated in seconds)
possibility & amp; amp; quot; looping & amp; amp; quot; mailings
all types of attachments + the ability to attach random from the list
support for emoticons codes in message text
text randomization
two types of randomization
the ability to preview the randomized text
macros
attaching links with previews, as well as videos from YouTube and pictures via links from the Internet
Parser features:
fine settings and high speed of work
automatic duplicate removal
filters closed groups and publics
the ability to parse only groups or only publics
filter by the number of participants
A bit in numbers:
the program has existed for more than 3 years
more than 1500 active users of the program
your private forum
Upon purchase, you get:
1. Perpetual license for LSender VK with subsequent free updates.
2. Constant technical support.
3. Ability to receive discounts on other software.
4. Access to a private forum.
5. Access to your personal account.
LSender VK has an integrated automatic bypass captcha system
2captcha.com