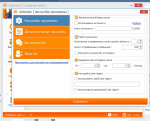 https://2captcha.com/ru/software/oksender
OKSender - 1 program and 5 tools for promoting your business on social media.
You have decided that you need to promote your business through social media. "Everyone does the same! It's so important to be online now! " - you say to yourself and create a group. What's next? How to change the number of participants from a proud zero to at least 1,000 - 5,000? But the most important thing is how to sell and work with clients through the same Odnoklassniki?
One of the programs that will help with this will be OKSender. This is not a simple "cheat" or "bots". The functionality of the program is tailored for the promotion of goods, the sale of services and works.
Who is OKSender for?
· Representatives of the service sector (cafes, restaurants, cleaning of premises, renovation, design, hairdressing, beauty salons).
· Shops and small businesses in the field of sales (food, appliances, consumer goods, clothing, footwear).
· Info-businessmen, authors of training courses (self-development, personal growth, sales).
· Marketers, promotion specialists (both private and on-staff).
What functionality does the program offer?
1. Parser. Now you can find your target audience and sell 70-80% more efficiently. The program offers a search for people by classes and reposts, groups / videos, users from groups and others.
2. Newsletter. Send messages to potential customers in private messages, start sending offers to groups, guests, discussions.
3. Inviter. Invite users to your communities and increase the number of members. The developer offers an invitee to friends by list, to a group, to friends from search, and others.
4. Walking. Visit the users' pages so that they will visit you later. The more users pay attention to your profile, the better.
5. Checker. Now you can check the profile to see if it will be blocked or not.
What does OKSender give to the business?
This is a program for intellectual advancement. You are not just "shooting sparrows with a cannon", but you are working with the target audience. As a result, more users. More users means more sales (if done correctly).
Site readers can get an individual free consultation on business promotion from the developer. Limited number of seats.
OkSender has an integrated automatic bypass captcha system
2captcha.com