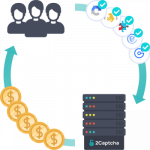 If you are looking for a site where you can earn without cheating and knowledge, this is 2 captcha.
Solving captchas is easy for a person of any age and with any education. The only thing you need to know is letters and numbers.
How to start earning online?
To get started,
register
.
The system will then guide you through tutorial tasks to show you what to do. Next, you will start earning money online by solving captchas. All you need is a computer or smartphone with internet access.
Best captcha earning apps
You will be able to earn $0.50 in 1-2 hours, depending on the load of the service. The minimum payout is from $0.50. No payout fees. Get the full amount earned.
Withdrawal methods

Why do we pay to solve captchas?
Everything is simple. We have clients who send us captchas for recognition. Solving these captchas can save them time and they pay for it.
Working conditions
To work on the captcha entry service, you only need a computer, a keyboard and an Internet connection. Mobile supported. You earn money for each correctly entered captcha. You can work as much or as little as you want, at any time that suits you. Our service is online, so we have a lot of work for you. You can work from home. Light.
To get started -
register
.