This is a universal parser that uses automatic captcha bypass using
2captcha.com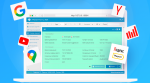 A-Parser is the only truly multithreaded parser supporting over 10,000 threads. It parses everything an SEO specialist needs: search engines, site evaluation services, keywords, content (text, links, arbitrary data) of any services (youtube, pictures, translator ...) and sites.
A detailed description can be found on the official website
a-parser.com
A-Parser supports the RuCaptcha.com captcha recognition service, which makes it a universal parser that can work without human intervention. In addition, A-Parser collects the results into a unified database, so it can parse and perform post-processing of the data measurement area.
SEO-optimization of websites and Web-analytics

The collection link databases for XRumer, A-Poster, AllSubmitter, ZennoPoster, and many more!
Rating websites and domains across the specified parameters
Monitoring the position of numerous websites across multiple search engines
Collection of text, images and video content for generating gateway websites (doorways)
Backlink monitoring
Collecting information from websites (e.g. phone/emails, forum messages, adverts...)
Obtaining and assessing keywords
Collecting and compiling backlink lists
..and much more!

Web security

Obtaining and filtering link databases by footprints
Determination of website CMS
Formation of arbitrary GET and POST requests with simultaneous answer filtration

Network administration

DNS - resolving domains to IP addresses
WHOIS - obtaining domain name-servers and the dates when each domain was registered and becomes available