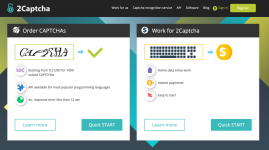 2captcha.com
is an innovative solution for bypassing captchas on websites. Captchas are tasks that require users to perform certain actions to verify that they are humans and not automatic programs. 2captcha.com uses a combination of technology and human resources to solve captchas effectively, allowing you to automate your interactions with websites.
The basic principles of the service 2captcha.com:
1. Captcha recognition: When a user encounters a captcha on a website, instead of solving it himself, he submits the task to the 2captcha.com service. With the help of special artificial intelligence algorithms, the service recognizes the type of captcha and generates a task to solve it.
2. Work with human resources: 2captcha.com includes in its system a huge number of users who perform tasks to solve captchas. It can be both people working on the platform and users who earn money by solving captchas in their free time. These people accept tasks from the service and solve them manually, providing the results to the system.
3. Balance of efficiency and accuracy: 2captcha.com strives to find the optimal balance between the speed of solving captchas and their accuracy. More simple and standard captchas can be solved faster, while complex and atypical tasks may require more time and attention. However, it is important to note that the accuracy of 2captcha.com captcha solution is usually very high.
4. API integration: 2captcha.com provides a convenient API for integration with various programs and services. This means developers can use 2captcha.com's functionality to bypass captchas in their apps and automated processes.
5. Privacy and security: 2captcha.com provides a high level of privacy and security when dealing with user data. All transmitted captchas and related data are encrypted and stored in a secure environment. In addition, the service strictly adheres to the privacy policy and does not transfer personal data of its users to third parties.
6. Flexibility and scalability: The 2captcha.com service offers various tariff plans adapted to the different needs of users. Users can choose the best plan according to their scope of work and budget. In addition, the service is scalable and is able to process a large number of captchas at the same time.
7. Technical support: The 2captcha.com team offers 24/7 technical support for its users. If you have any questions or problems, you can ask for help and get prompt answers and solutions.
The 2captcha.com service is a reliable and effective tool for bypassing captchas on websites. It is based on the use of machine learning technologies, algorithms and human resources to provide fast and accurate captcha solving. Thanks to its flexibility, privacy and security, as well as its high level of technical support, 2captcha.com is becoming a popular choice for those who are looking for a solution to effectively bypass captchas on websites.
Register
https://2captcha.com/auth/register