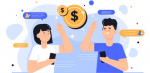 Where do I get my referral link?
You can find it in the
Referral
tab.
How can I earn if not solving CAPTCHAs?
You can invite people to work with the service. They will be your referrals. Your reward is 10% from everything they earn or spend.
My friend has followed my referral link and registered. I can see him in the list of my referrals.He has earned a certain amount yet I don't see anyhing on my balance.
Referral commission comes every 24 hours. Check your statistics the next day in the morning.
My referral has registered and put a certain amount on his balance. Several days later, I still do not see any referral commission on my account.
You earn 10% from what your referral earns or spends on 2Captcha.com, so if your referral is a webmaster, you get your commission once they start spending which means purchasing CAPTCHAs.