RuCaptcha Bot X allows you to earn more solving ReCaptchas.
You need to download the archive, extract it to any folder of your computer and it is ready to use.
To start the application run
RuCaptchaBot.exe
file.
The rate for ReCaptcha is now flexible and it can be from $1 to $2 per 1000 solved ReCaptchas depending on service load.
Subscribe to our Telegram channel to be informed on rate changes:
https://t.me/My2CaptchaBot
Download the application:
Latest version:
Download
Authentication:
Authentication is now made by API KEY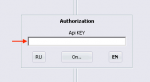 Your API key:
dc37c0483445135d4009ae7fb4ef4cdb
WARNING!
Always keep your API key in secret! If someone will steal your API key he will be able to spent funds from your balance.
Settings: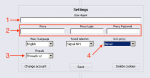 1. User Agent
Probably you will get less complex challenges if you will set UserAgent of your browser. Just copy this string to the field:
Mozilla/5.0 (Windows NT 10.0; Win64; x64) AppleWebKit/537.36 (KHTML, like Gecko) Chrome/89.0.4389.114 Safari/537.36​
2. Proxy
These settings are only for experienced Internet users. If Google banned your IP address and you found a working proxy somewhere then you can configure the application to use your proxy.
If you don't know what it is - don't enter anything there!
3. Threads
You can choose if you wish to work in two ReCaptcha windows or not.
Setting "Threads х2" doesn't mean that yoi will always get ReCaptcha in both windows. The right one turns on when we have a lot of ReCaptchas from our customers.
4. Incl. proxy
This option is for workers who get their IP banned by Google.
If your IP is banned then choose
RuCaptcha proxy