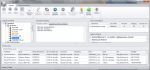 https://2captcha.com/ru/software/samarkand-olxua-parser-and-poster
Samarkand OLX.ua Parser and Poster software complex consists of three programs:
1) A multithreaded olx.ua parser that downloads and stores all ads, phone numbers, prices and pictures in the local database.
2) Search in a local copy of olx.ua, which allows you to search not only by the text of the ad, but also by the phone number, skype, the name of the author of the ad.
3) Automated sending of messages to the authors of ads: by category and by the list of authors and ads. Collection of statistics. The author will receive your message only once.
Sending SMS through services like smsc.ru.
Export to Excell.
Configurable number of streams, rucaptcha.com support for Google ReCaptcha v2 recognition, work through proxy servers and much more!
It is possible to modify the functionality at the request of the customer.
The program is written in the Perl + MySQL language, runs under Windows and Linux. Open source. Free support.
Samarkand OLX.ua Parser and Poster has an integrated automatic bypass captcha system
2captcha.com