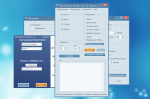 https://2captcha.com/ru/software/sbot-olike-for-vkcom
Sbot olike for Vk.com is a program for automating actions on the olike.ru (olike) service with tasks for the Vkontakte social network.
Works without a browser, you can launch it, minimize it and go about your business. Intuitive interface, lots of useful features.
Functional:
• Automatic registration of accounts on olike.ru.
• Completing tasks: Like, join a group, add to friends, make a repost.
• Automatic transfer of points to another account
• Support for all types of proxies
• Anticaptcha RuCaptcha.com
• Lots of other features.
Sbot olike for Vk.com has an integrated automatic bypass captcha system
2captcha.com