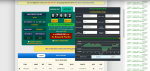 https://2captcha.com/ru/software/bot-dlya-buksov
FreeBitcoin is a faucet site that gives away free cryptocurrency for solving captcha, which can be withdrawn and exchanged in rubles. The site also has a game "Multiplier", with its help you can increase the existing balance on the site using a script
What is a script for Freebitcoin?
This is a script for automating the game on cryptocurrency faucets according to proven strategies with guaranteed profitability results
A script is not a program, but a program code. I copied it, pasted it on the site and pressed the Enter key. That's it, the script has started. It's simple!
Script is a technical solution to simplify the game on the site. That is, this is a tool that helps to speed up work (playing on the site), but is not the main method of earning money.
Plums (losses) are an integral part of the script's work. This is necessary in order to show an imitation of a person's game, for which a BAN is not issued on the site.
The script imitates the game of a real person, eliminating the risk of being banned for using the software.
Script for Freebitcoin has an integrated automatic bypass captcha system
2captcha.com