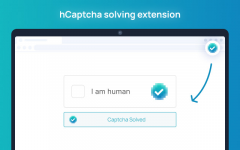 Internet users often encounter captchas when using various web services and sites. Captchas are used to protect against automatic interaction from bots and spammers. However, some captchas, such as hCaptcha, can present a challenge to users, requiring additional steps for verification. In this article, we will consider an extension for the Google Chrome browser called "hCaptcha Solver Auto Captcha", which helps to simplify the process of solving hCaptcha and make it more convenient for users.
"hCaptcha Solver Auto Captcha"
is an extension for the Google Chrome browser, which is intended for automatic hCaptcha solving. The extension integrates directly into the browser and can be easily installed from the Chrome Web Store. It offers users a simpler and faster way to pass hCaptcha, minimizing the need to manually perform verification tasks.
Features of the extension:
1. Automatic hCaptcha solution. The extension uses machine learning and computer vision algorithms to automatically recognize and solve hCaptcha without user intervention. This allows the user to save time and effort, freeing him from the need to perform complex verification tasks.
2. Integration with the browser. The extension is integrated directly into the Google Chrome browser and appears as an additional button or panel on the toolbar. Users can easily activate or deactivate the extension at their discretion.
3. Improved speed and efficiency. Thanks to the automatic solution of hCaptcha, the extension significantly increases the speed of verification. This is especially useful when working with web services or sites that require multiple checks, such as registering an account or submitting forms.
4. Ease of use. "hCaptcha Solver Auto Captcha" was developed with an emphasis on ease of use. Users can activate the extension with one click and it will automatically work on websites with hCaptcha. This is especially convenient for those who daily interact with a large number of captchas.
Restrictions and safety:
It is important to note that the "hCaptcha Solver Auto Captcha" extension should be used with caution and in accordance with the rules and policies of a particular web service or site. Some websites may prohibit the use of automatic captchas and may implement measures to detect and block such actions.
In addition, it is important to pay attention to data security when using advanced third parties. It is recommended to install extensions only from reliable and verified sources, such as the Chrome Web Store, to avoid potential security threats.
Conclusion:
The
"hCaptcha Solver Auto Captcha"
extension for the Google Chrome browser is a useful tool that helps users simplify and speed up the hCaptcha solving process. It offers an automatic solution to verification tasks, freeing users from the need to perform them manually. However, before using the extension, it is recommended to familiarize yourself with the rules and policies of the site or service to make sure that the use of the automatic hCaptcha solution is permitted and safe.