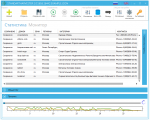 https://2captcha.com/ru/software/standartharvester
The StandartHarvester parser scans web services and looks for any contact information on them, finds out the location and scope of the company, and saves the scan results to an Excel spreadsheet (.csv file).
Parser features:
- Multi-threaded mode of use;
- Selection of any information for communication;
- Definition of page types (areas of activity of companies);
- Definition of regions of web sites;
- Ability to add your own & amp; quot; masks & amp; quot; regions and industry categories;
- Saving scan results to Excel spreadsheet (.csv file);
- Collecting domain names.
Parser advantages:
- Free updates;
- High speed of scanning web portals;
- Budget cost;
- Does not require special skills and knowledge;
- Standard intuitive interface;
- Freely redistributable demo version.
StandartHarvester has an integrated automatic bypass captcha system
2captcha.com