At the end of last week, local SEO professionals started complaining en masse about the blocking of company profiles on Google My Business.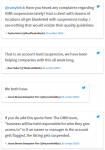 According to experts, these locks are carried out at the account level. Therefore, if the account is subject to sanctions, then GMB blocks all branches / addresses created within its framework.
A number of topics cite quality issues as the reason for blocking.
The Russian-language version of the Google My Business help forum also contains messages about blocking, but at the moment they are not massive.
Google has not yet commented on this situation.