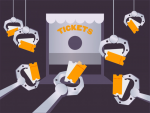 1. TicketMaster Spinner Bot
https://2captcha.com/software/ticketmaster-spinner-bot
The software allows you to reserve multiple tickets, you can do multiple searches simultaneously on one event or multiple events with just a click of a mouse. You can use it for drop checks as well as set them for presales and onsale events. It also has an option to allow you to set the bot to start at a specific time, while you are not there and the software will start at a time and grab the tickets and notify you, if the tickets match your criteria. The bot can be customized to meet your exact needs as well.
2. AIO Bot V2
https://2captcha.com/software/aio-bot
AIO Bot V2 is the best sneaker bot to cop limited-edition sneakers automatically. It's fast, efficient and user-friendly. You can use it to increase your chances on 200+ retail websites. The true ALL IN ONE bot has proven itself to be the most successful and consistent bot in the market, with over 300k checkouts across all of its supported sites.
3. Project Ghost
https://2captcha.com/ru/software/project-ghost
AIO Sneaker Bot from the Rupreme team will allow you to purchase limited collections of famous brands at retail prices.