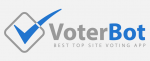 https://2captcha.com/software/toplist-voter---best-toplist-vote-bot
Introducing Toplist Voter! The best online service for quickly and efficiently growing your organisation, automatically.
Vote at speed on over 70+ popular topsites, getting more traffic to your site.
Our bot is very very advanced it supports all popular topsites. To find out more information such as speed, pricing or how start using that site, click the site that you are interested in.
Cost per vote is how many tokens it takes to send 1 successful, not dollars. With our service you can get thousands of tokens at an amazing price.
Toplist Voter has an integrated automatic bypass captcha system
2captcha.com