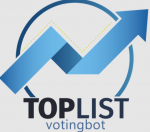 https://2captcha.com/software/topli...raft-runescape-and-world-of-warcraft-and-more
Instant votes for your Private Server!
Start building your desired votes order here. Enter the link and the amount. Your order will automatically start after purchase.
TopListBot.com
- Innovative voting sites for Minecraft, Runescape and World of Warcraft and more!
You will be able to vote bot on the toplist you want, mainly for Runescape, World of Warcraft and Minecraft toplists, but adding new ones is so easy that it won't be any problem at all!
You can vote on websites with a custom referall link, this means that you can vote on your own username for any game to claim free vote rewards!
We currently support HTTPs, HTTP, SOCKS5 and SOCKS4 proxies, you may also use passwords and usernames for this.
For Runescape we currently support the following features:
ArenaTop100
EverythingRS
Moparscape
Rsps100
Rspslist
Rspspage
RspsTopList
Runelocus
Runeserver
Top100Arena
TopG
TopRSPS
You might have struggled before with having not enough players on your server when you want it to!
We can solve this problem for you, with buying fully automated votes from us. You can get any rank on any toplist you desire.
We offer this service fully automated, using residential proxies
You don't require any expensive proxies or captcha services
We offer great customer service support with live chat, tickets and e-mail
We use the latest technologies, we made 5.000.000 votes so far on all toplists!
TopListBot.com has an integrated automatic bypass captcha system
2captcha.com