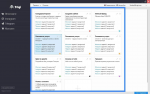 https://2captcha.com/ru/software/tv...cheniya-klientov-iz-sots-setey-i-messendgerov
TVIGI is a powerful toolkit for attracting clients from social media. networks and messengers.
In contact with:
- Gathering target audience by any parameters, including group administrators
- Liking, adding to friends, comments, sending messages, etc.
- Top posting
- Collecting audience contacts
- Happy Birthday
- Deferred posting
- More than 100 accounts at the same time, support for proxies and autocaptcha
- And many other useful features
Instagram:
- Gathering an audience
- Collecting users from the map, marking the territory on the map
- Activity: like, subscribe, unsubscribe, comment
- Mailing to direct
- And other
Telegram newsletter

Skype mailing

Email newsletter
Ban protection, use of intervals and proxies. Multi-stream mode. Support and training.
TVIGI has an integrated automatic bypass captcha system
2captcha.com