Twitter announced the termination of the Periscope live streaming service. Service applications will be closed by March 2021.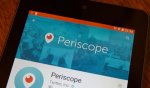 At the same time, video streaming via the Twitter Live function in the main application of the microblogging service will still be available on Twitter.
Periscope was shut down because of its declining usage while maintaining the app's support costs over the past couple of years.
Although the service will stop working only in March, in the latest version of the application there is no longer an option to create a new account.
Current users will be able to download an archive of their videos and data before the service closes.
As for the Periscope site, it will remain active and serve as a read-only archive of public broadcasts.
Recall that Twitter launched the Periscope live video application in 2015, and in 2016 the service announced full integration with Periscope and introduced a new Live feature.