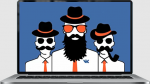 https://2captcha.com/ru/software/vkscout-dlya-vkontakte
The most powerful tool for working in VK VkScout.
What can he do?
Very, very much. For example, he can fill the page himself, find people by criteria, add them as friends, put them like, invite them to a group, and much more. If at least one of the accounts is blocked during work, the work will automatically stop with the creation of a screen with detailed information about the blocking. The key features are scheduled launch and the ability to create a single task that will include all the functions at once!
The main settings of the program will allow you to automate the work with accounts, cloning pages, automate likes and adding to friends, posting and reposting. You can customize the script so that each time the account is launched, it will perform different actions in a different order and in a different amount.
Also VkScout can read messages and respond to them according to a custom template.
Thus, VkScout can easily replace several known instruments at once and will increase your productivity, while saving time and money.
VkScout for Vkontakte has an integrated automatic bypass captcha system
2captcha.com