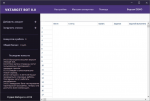 https://2captcha.com/ru/software/vktarget-bot
EARNING PROGRAM ON SERVICE VKTARGET.RU
Why the bot is convenient
Available on all devices.
You can complete tasks and control orders from any device with Telegram
Spend less time - get more tasks
Communicate in the messenger and receive notifications of new tasks directly in Telegram! To increase the likelihood of assignments being issued, you can click on the refresh button - this will raise you in the waiting queue.
More types of tasks available.
Some tasks, such as installing applications, are only available to users of the Android application.
No need to download a separate app - save space
Messengers have actively entered our life and almost everyone stopped one, or even several
Low traffic consumption.
Telegram itself is designed to consume as little traffic as possible. Moreover, at the moment it is the fastest messenger. Note that many telecom operators have tariffs with
Language support
Telegram has support for the Russian and Ukrainian languages, you can easily figure out everything you need.
Functionality
Almost all the functions that are on the site or in the application are already there or will be added to the bot in the future
Multi-account
Your Telegram account will not be permanently linked to one VKTARGET account. When using a bot, you can always log out and start using the bot under another VKTARGET account
Vktarget bot has an integrated automatic bypass captcha system
2captcha.com