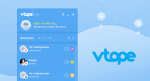 https://2captcha.com/ru/software/vtope
Vtope
- a free service for social media promotion. Trusted by over 2,750,000 users.
Increase in clients.
Millions of subscribers and tens of thousands of customers for your business.
Increased activity.
A huge number of likes and reposts on posts in your accounts and communities.
Viral effect.
Powerful viral effect by reposting your posts.
Increased confidence.
People trust groups with a lot of followers and activity.
Is free. Works through exchange.
To get promoted for free, you need to complete tasks of other users: like, repost, join a group, add to friends, etc. For this you get points. They can be used to promote your projects.
Or you can purchase points to get everything at once.
Vtope has an integrated automatic bypass captcha system
2captcha.com